Grand Marnier Strawberry Shortcake Recipe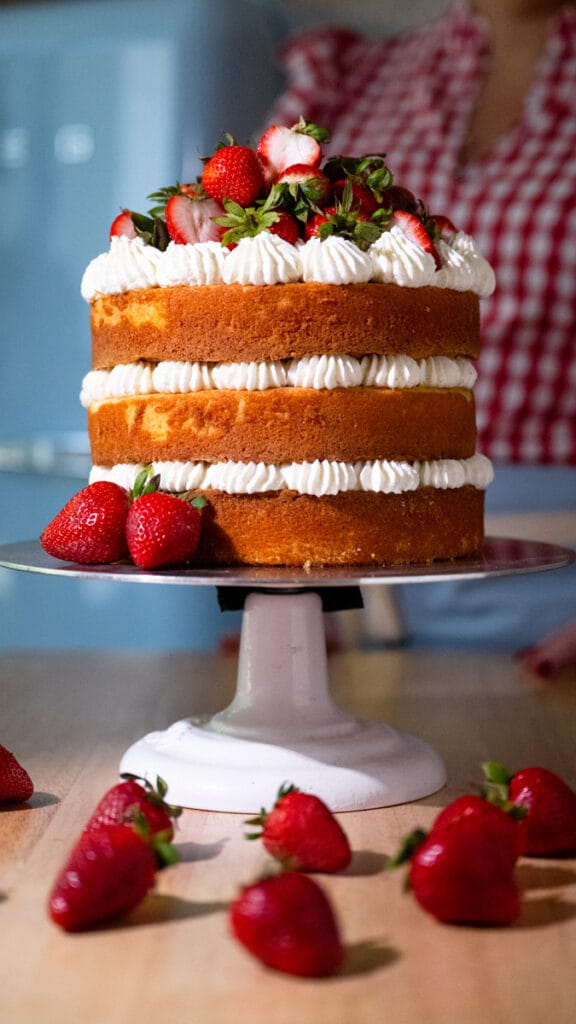 Ingredients
3 cups all-purpose flour
¼ tsp baking soda
½ tsp salt
1 cup unsalted butter, room temp
3 cups granulated sugar
6 eggs
1 TBSP orange juice + zest of 1 orange
1 tsp vanilla extract
1 cup buttermilk
Measure or 'mise' out all of your ingredients. Combine orange juice with buttermilk. Preheat oven to 350*. Prepare (3) 8″ cake pans by spraying with pan spray and lining with circles of parchment paper.
In a medium bowl, combine all–purpose flour, baking soda, and salt. In the bowl of a stand mixer with the paddle attachment, cream butter, sugar, and orange zest for 5 minutes until light + fluffy.
Add eggs one at a time and mix until just combined. Add vanilla extract. On low, alternate adding flour mixture and buttermilk, beginning and ending with flour until just combined. Fill prepared cake pans with batter (1/2 full). Bake until golden brown, about 25 minutes. Remove from oven and cool completely.
For Grand Marnier Soaking Syrup:
In a medium saucepan, combine 1 cup granulated sugar with 1 cup water. Bring to a simmer and remove from heat. Cool slightly before adding 1/4 cup Grand Marnier. Cool completely
For Pastry Cream:
2 cups whole milk
6 TBSP granulated sugar
pinch salt
3 TBSP corn starch
4 yolks
3 TBSP unsalted butter
1 tsp vanilla extract
Add whole milk to medium sauce pan. In a medium bowl, combine granulated sugar with egg yolks + corn starch; whisk vigorously until mixture turns pale yellow, about 3 minutes. Bring milk up to a simmer, and 'temper' into yolk mixture by slowly streaming hot milk into yolks and whisking. Return mix back into saucepan and cook over medium heat, continuously whisking, until mixture is bubbly + thick like pudding, about 5 minutes.
Remove from heat, and add vanilla and butter until butter is combined. Cool completely.
For Diplomat Cream:
Add 2 cup of whipped cream to pastry cream by folding together.
Assembling Cake:
Rinse + dice fresh strawberries and set aside.
Prepare a piping bag with your favorite piping tip (I prefer a French Star tip!). Add diplomat cream to piping bag.
Remove parchment from bottoms of each 8″ cake layer.
Start with one layer of 8″ buttermilk cake. Using a pastry brush, soak cake in chilled Grand Marnier syrup.
Pipe a ring of Diplomat Cream around edge of cake, and fill in center of cake with a layer of cream. Top with diced strawberries. Add second layer of cake on top and repeat until you have three layers of soaked cake and two layers of filling.
Garnish with additional cream + whole strawberries. Keep cold until ready to serve!
Tara's Tips:
-Making this cake 'on the fly'? You can purchase instant pudding mix + cool whip, and combine the two to create a quicker version of 'Diplomat Cream' that's equally as delicious!
-Bringing this to a picnic or BBQ? Prepare it as a layered dessert instead of as layered cake, and feel free to use chunks of store bought pound cake instead of making cake from scratch!
- Tara
BACK TO ALL BLOG POSTS