Not for kids: Explosion of colorful cannabis treats coming soon to Maine
The state's nascent adult-use cannabis market is poised to expand rapidly, but some worry the new products will be too appealing to children.
Keri-Jon Wilson likes to think of Tara Canaday, the executive chef at Portland's Pot and Pan, as "the stoner whisperer."
Whether she's whipping up cannabis-infused goodies like gingerbread-flavored bonbons or a Flamin' Hot Cheetos French macaron, she knows the classically trained Canaday will deliver.
"People are always looking for the next thing they've got to try," said Wilson, co-owner and general manager of Pot and Pan, a medical cannabis manufacturer that is among several Maine marijuana businesses gearing up for entry into the adult-use market.
As the state's legal market for cannabis edibles starts to mature, it is expected to undergo significant expansion and diversification. Myriad colors, shapes and flavors are poised to explode onto the market, which industry experts hope will attract a new consumer base.
But the products look and taste like traditional sweets, which can make them highly appealing to children. Annual emergency room visits involving kids who had ingested THC, the psychoactive chemical in cannabis, increased fivefold in Massachusetts in the two years after the state opened its market for recreational edibles and other adult-use cannabis products.
State officials in Maine also are concerned about the potential for adults to be hospitalized after eating too many THC-infused products. They have imposed strict dosage requirements for edibles, though such limits can't prevent consumers from eating multiple servings.
Traditional, smokable marijuana flower dominates and will continue to dominate Maine's recreational market, accounting for nearly 65 percent of the roughly $13 million in sales since adult-use product sales launched in October.
Experts agree that flower won't be bumped from its No. 1 spot, but its percentage share does appear to be shrinking as more manufacturing sites come on line and the product line diversifies.
Infused products, the category that the Maine Office of Marijuana Policy uses to track drinks, edibles, capsules, suppositories and topicals, accounts for about 14 percent of the market overall, but sales data suggests it's increasing.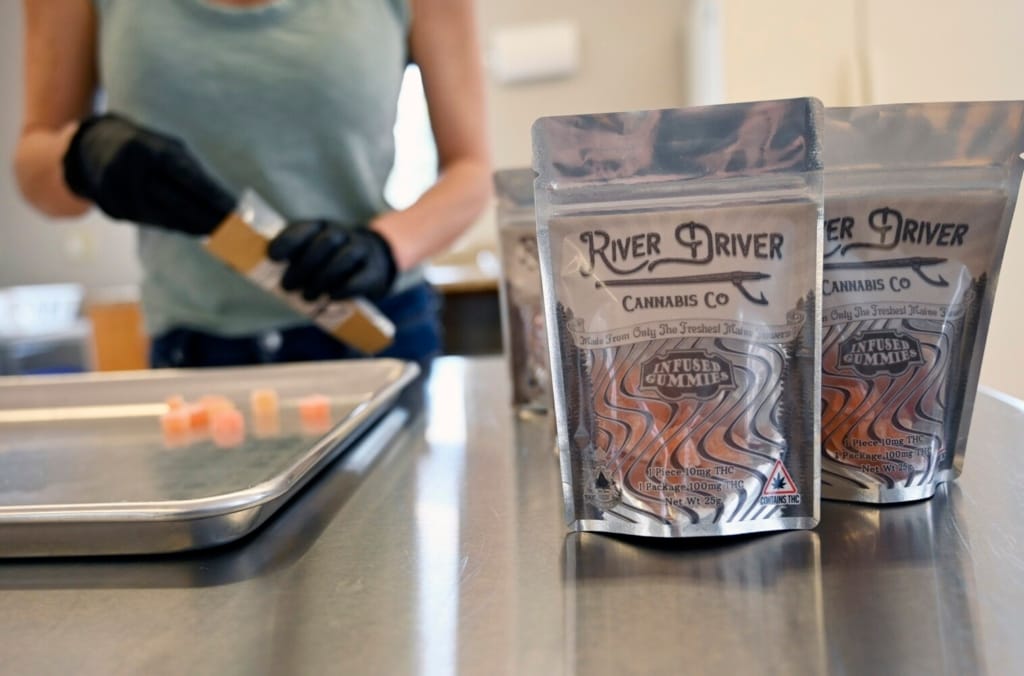 In March, the category captured about 16 percent of sales.
Kelly Nielsen, vice president of insight and analytics at BDSA, a Colorado-based cannabis data and analytics firm, estimates edibles hold about 10 percent of the overall market.
That number is expected to grow. In most mature legal cannabis markets, edibles make up about 13 to 14 percent of total product sales.
Wilson said Pot and Pan hopes to officially launch in the adult-use market this summer, with a state-of-the-art facility in the works and a retail facility in Portland later this year.
The company hopes to make a name for itself as "the leader in edibles," she said, specializing in a 1950s soda fountain-esque experience featuring candy, baked goods, cheesecake, macarons, ice cream, beverages and more, with throwback flavors and twists on tradition. Plus, of course, THC.
"We're the vacationland. We can anticipate everyone coming here, trying to figure out where the best Maine cannabis and Maine edibles are," she said, adding that edibles are "just a really great way to indulge."
EDIBLES ON THE RISE
Industry experts are seeing customers' preference for edibles creeping upward.
In states with fully legal markets, 73 percent of consumers say they have used edibles and 33 percent say they prefer them, compared to 74 percent and 57 percent, respectively, for inhalable products.
"That 33 percent is on the rise and is higher than we've seen in the past," Nielsen said.
Lisa Finlayson-Brown is already seeing the demand.
A co-owner of River Driver Cannabis, an edibles manufacturing site in Brunswick, Finlayson-Brown said she and her husband are already nearly maxed out on what they can produce, just two months after getting up and running.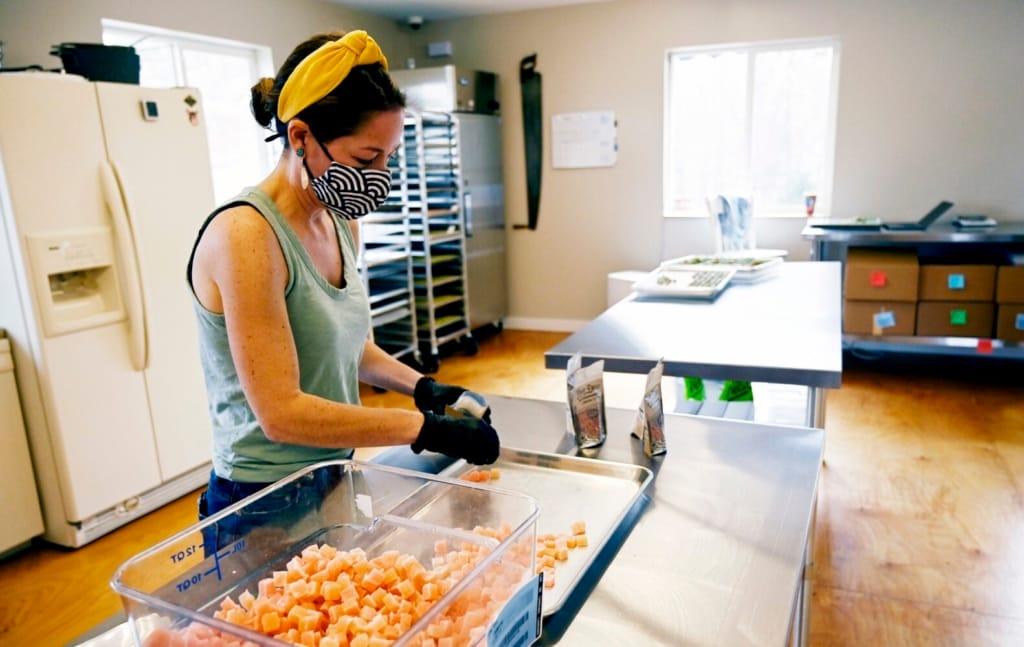 "We're doing our best to fill orders as we can right now," she said, but it's hard. "We're growing at a fast rate; we're going to have to start hiring."
River Driver is one of just a few licensed manufacturers of edibles in Maine.
For now, the company focuses on a few basic sweets, Finlayson-Brown said, such as fruity infused gummies and a few flavors of hard candies, but the company also is working on developing vegan and gluten-free products that don't sacrifice taste.
"We're looking for a candy that can fulfill that niche," she said.
Right now, the company's products can be found in a few Maine stores, but River Driver plans to pull back after it opens its own retail shop this summer in order to fully stock shelves with its own products.
According to David Heidrich, spokesman for the Office of Marijuana Policy, the department does not have a distinct classification for edibles manufacturing businesses as opposed to those for extraction and the manufacture of concentrates, which account for about 20 percent of the overall market.
Still, with 20 manufacturing sites already licensed and another 72 awaiting approval, it's likely that many more edible cannabis products will soon hit Maine's retail stores.
New products may bring new consumers.
"With the escalation in branding and marketing of infused products, (edibles) could play a more consequential role in a social normalization of cannabis," said John Kagia, chief knowledge officer for New Frontier Data, a Washington, D.C.-based cannabis data analytics and technology firm. "Edibles are uniquely positioned for inclusion in social settings. … These new products are going to play an important role in introducing people who may not be familiar with cannabis."
According to Nielsen, experts are seeing an increase in edible products with lower doses of THC, further indicating their role as a comfortable, easy-to-use format for people new to the cannabis space or who may be averse to smoking it.
GUMMIES, CHOCOLATES, DRINKS
While the famous (or infamous) "pot brownie" gets all the notoriety in pop culture, market research shows that baked goods are fairly low on the list of customer favorites.
Instead, that spot belongs to gummy candies, which are easier to dose evenly and produce in large numbers.
Sweets – gummies, mints, taffy, hard candies and others – account for about 67 percent of edibles' sales volume. Of that, 85 percent is from gummies.
Trailing behind are chocolates, which make up about 12 to 13 percent of edible cannabis sales, followed by pills, capsules and other infused foods.
"No matter what you try to introduce, they either want sour gummies or chocolate bars," Wilson said.
Edibles may not be the biggest category, but they're seeing the most "disruption and innovation," Kagia said.
Kagia and Molly McCann, New Frontier's director of industry analytics, are both particularly excited by the infused beverage sector, which only accounts for about 5 percent of the category but is growing quickly.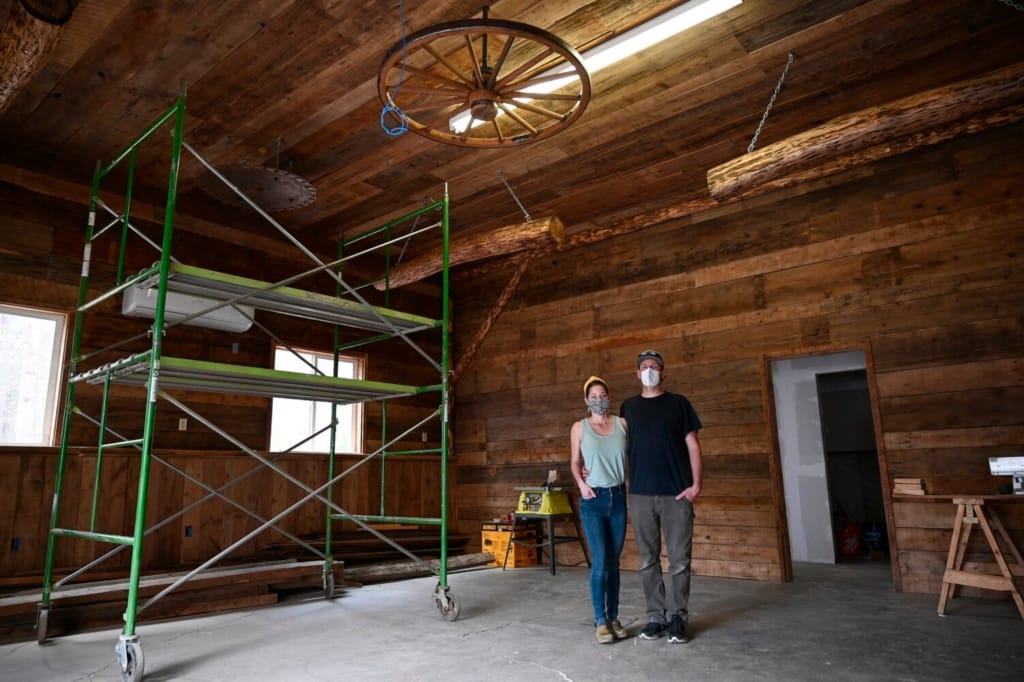 Historically, beverages and edibles have faced fundamental problems, including a delayed high, unpredictable dosing and a hard-to-shake marijuana taste.
But recently, innovation within the industry has helped address those problems, and there's now a flood of opportunity within the sector, evidenced by the range of beverages and soluble powders appearing on the market, Kagia said.
"People who really prefer smoking, they're not going to go away," McCann said. "Part of the ritual of lighting it up and inhaling it, that has meaning for them and is part of their routine. But I think (beverages) have tremendous potential around new consumers or people who tried it before and didn't especially like the experience."
Matt Hawes, owner of Novel Beverage in Scarborough, is especially excited about the beverage category's potential.
In March, the fledgling company launched its first two products through a partnership with Shipyard and Sea Dog brewing companies: two "elixirs," cannabis-infused riffs on Shipyard's Pumpkinhead ale and Sea Dog's Wild Blueberry wheat ale with 5 milligrams of THC per serving.
Their debut in the market was a huge hit, Hawes said, and Novel now has a manufacturing contract with Colorado-based Keef Classic Sodas.
At 10 mg of THC, the original cola, orange soda and root beer flavors have a higher THC content than the beer-adjacent elixirs, which Hawes said target a new consumer group that may be more experienced with cannabis and have a higher tolerance.
"I think the reality is, there is a group of consumers that will always want the plant," he said. "You can't replicate that with other stuff. There's really only one solution for that consumer. But everyone else is open to the specialty products categories."
OVERDOSE CONCERNS
A 2019 study by researchers at the University of Colorado School of Medicine found that while edibles only accounted for about 10.7 percent of cannabis-related hospital visits, those hospitalizations were significantly more likely to be the result of acute psychiatric symptoms, intoxication and cardiovascular symptoms than for patients hospitalized for smokable marijuana.
"If there's one danger of using cannabis, it's people overdosing," said Christopher Altomare, CEO of Nova Analytics, a cannabis testing lab in Portland, so "the accuracy around dosing edibles is really important."
Maine's Office of Marijuana Policy has strict regulations for adult-use edible doses, limiting the THC content to 10 milligrams per serving and 100 mg per package.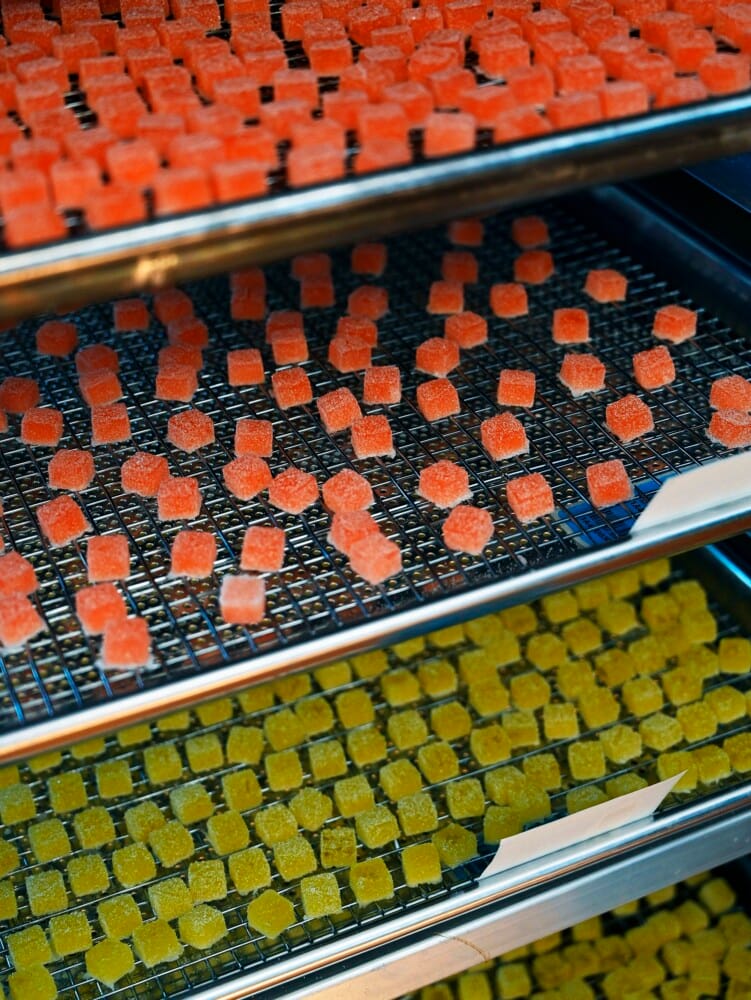 If a product tests even at 100.1 mg, it's a failed test.
"I believe there should be a range of around 100 because there's some variation of uncertainty" with any testing measures, Altomare said. Nova Analytics recommends targeting 9 to 9.5 mg per serving, so if a package goes slightly over, it won't mean an automatic fail. Many companies also do a fair amount of testing during the research and development process so that the finished product is ready to hit shelves after sailing through final testing, he said.
With cannabis in so many forms, there are several different analytical processes that the lab uses, but they're all tested for the same components: dangerous molds and mildews, harmful microbes, THC potency, homogeneity, spoilage potential and harmful chemicals. Starting June 1, labs also will be required to test for metals.
It's homogeneity, the requirement that each piece, every gummy or square of chocolate has to be within about 10 percent of the others for potency and flavor profile, that trips up manufacturers the most, Altomare said.
"If you've never done edible manufacturing before, it can be pretty difficult to hit the targets," he said.
WHAT ABOUT KIDS?
Not everyone believes edibles are quite so sweet.
Dr. Stephen Meister, a pediatrician at MaineGeneral Health and former president of the Maine chapter of the American Academy of Pediatrics, asks every family he sees if they have marijuana at home.
If they do, he asks if they keep it in a locked box, which he believes is the best way to keep children away from marijuana, especially edibles.
"One of the things we know about all medicines is that young children are at risk of ingesting them," he said. "That's why we have the law that relates to childproof medication containers."
The same rule should apply to marijuana, he said.
Instead, "We've sort of thrown caution to the wind with this stuff around our kids," said Dr. Deborah Hagler, a pediatrician at Mid Coast Pediatrics and current president of the Maine chapter of the American Academy of Pediatrics.
Meister and Hagler both are opposed to marijuana in any form that could appeal to children.
"The room for error with kids is too wide," Hagler said."It's too easy to forget that there was marijuana in it and just leave it around. In some of these products, the amount is very, very high for a small child. If they went and gobbled down the whole thing … an adult would understand to take one or two nibbles. For little, little kids … eating a huge brownie could be deadly."
When Massachusetts legalized marijuana in late 2018, there were just 52 cases of emergency room visits by children who had ingested THC-infused edibles, The Washington Post reported recently. By 2020, that figure was 257.
Some states have taken steps to prevent kids from confusing edibles with regular treats.
North Dakota only greenlit edibles in February, having banned them when the state's medical cannabis program was implemented in 2017.
Pennsylvania and Utah both prohibit most edibles and smoking (vaping is allowed), though Utah allows "gelatinous cubes."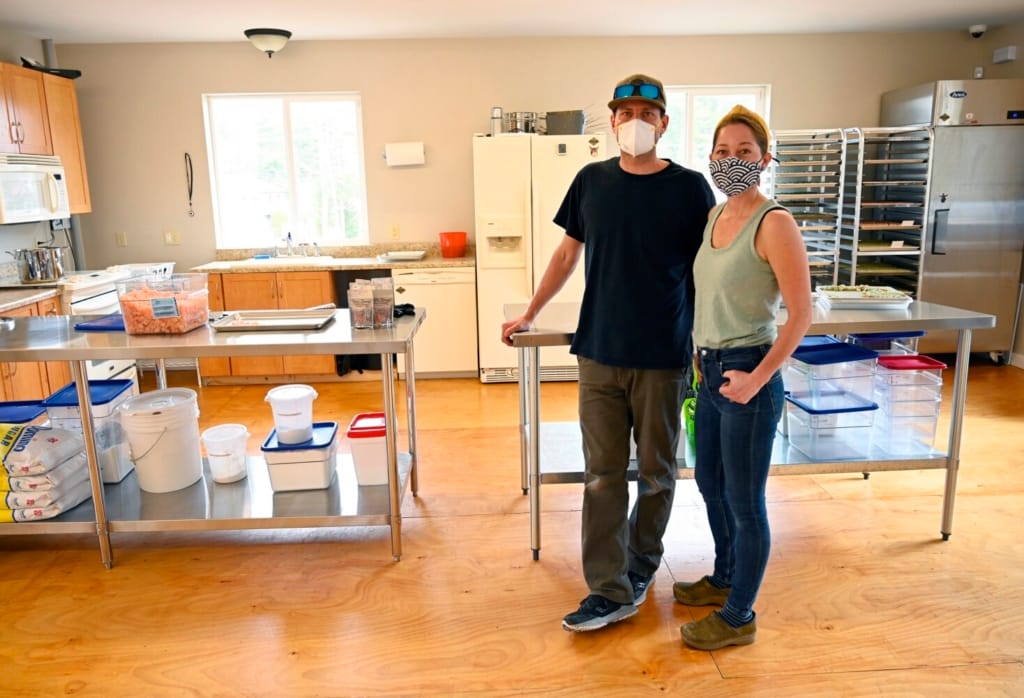 Maine, on the other hand, did not ban any form of edibles in its medical or adult-use programs.
"Edible products such as brownies, cookies, gummies, and other confections have existed within the unregulated market for decades," Heidrich, the marijuana policy office spokesman, said via email. "One of the goals of legalization is to diminish the unregulated, untested illicit market."
That said, there are some measures in place to help keep the products away from children.
For example, in the adult-use market, all marijuana products, edible or otherwise, are required to be prepackaged in opaque, child-resistant, tamper-evident packaging or must be placed in such at the final point of sale. Packaging for liquid products must include a child-resistant cap. Similar regulations are being proposed for the state's medical market.
Maine marijuana companies also are prohibited from using images of people, animals or fruit in advertising for any of their products.
Symptoms can take hours to set in and tend to last longer than through other methods of consumption, which poses especially high risks for children.
Because of the high amounts of THC often found in edibles, children, who are smaller and lighter than adults, are more likely to experience severe symptoms. The delay in onset time can be dangerous if, say, the child goes to bed.
According to Children's Hospital Colorado, an acute pediatric care research hospital in Aurora, Colorado, children are more likely to overdose on edibles than any other form of marijuana and often require hospitalization due to the severity of their symptoms.
Symptoms to look out for include problems walking or sitting up, difficulty breathing and becoming sleepy, according to the Maine Center for Disease Control and Prevention's Good to Know Campaign. If a child may have eaten marijuana, it advises calling the poison control hotline, 1-800-222-1222, or 911 if it's an emergency.
"We don't want it to be available to young children, and if it's to be sold to adults, it should be sold in a form that's not attractive to children and should be kept in a locked box," said Meister, the pediatrician. "This is just common sense."
Source: https://www.pressherald.com/2021/05/02/not-for-kids-explosion-of-colorful-cannabis-treats-coming-soon-to-maine/
- Tara
BACK TO ALL BLOG POSTS